This post may contain affiliate links. Read the full disclosure
Are you looking for the best Gold Coast theme park accommodation? We've got you covered!
The Gold Coast is home to some of the best adrenaline experiences in Queensland, and that includes most of Australia's theme parks and water parks! Movieworld, Seaworld, Wet 'n'Wild, Dreamworld and WhiteWater World all call the Gold Coast home, and this means you can have a pretty epic family holiday going park hopping!
To fit them all in though, you will need some great accommodation near the Gold Coast theme parks, so we have put together a list of the best places to stay for theme parks on the Gold Coast!
Our Top 3 Picks: Gold Coast Theme Park Accommodation
THE BEST GOLD COAST THEME PARK ACCOMMODATION
Living close to the Gold Coast has meant visiting these theme parks has been a big part of growing up in Queensland.
The Gold Coast theme parks are all relatively close together, with the exception of Seaworld being a little further from the rest. They are all within a quick drive or bus trip from one another, so having a home base near any of the parks will suit a multi-theme park holiday!
However, if you are just planning on visiting one of the parks during your Gold Coast visit, or if you are looking for something in particular, we have grouped our top accommodation recommendations into categories to help you find the perfect place to stay!
Plan your Gold Coast visit with the best things to do with kids on the Gold Coast and indoor activities for rainy days!
RECOMMENDED ACCOMMODATION NEAR SEAWORLD
Seaworld Gold Coast is located on the Spit, along Main Beach in Southport. This is a pretty active hub on the Gold Coast, which means there are loads of places to stay, eat and play!
This also means there is public transport available throughout the area, making it pretty easy to get around the surrounding Gold Coast area if you are not travelling by private car during your stay.
---
1. SEA WORLD RESORT & WATER PARK
⭐️ RATING: 4.5/5 Stars | 📍 LOCATION: Seaworld Dr Main Beach | ✅ Book it!
This is of course the obvious choice, as Sea World Resort adjoins the Seaworld Gold Coast theme park.
The resort caters to families, with great Gold Coast theme park deals incorporated into many of the room rates.
At the resort itself, kids will love the water park and swimming pool area, with waterslides and tipping buckets. There is also a kids' club, babysitting, a gym and restaurants.
There is a monorail that will take you into the theme park, or a gate entrance into Seaworld if you are happy to walk a few minutes.
They also have a special dolphin encounter show just for guests, and Nickelodeon characters visit the resort before Seaworld opens in the morning. Super fun and not just for kids. We actually stayed here once before having kids as well as several times after!
This is one of our favourite family resorts on the Gold Coast and we stay every 1-2 years.
PROS:
Modern and comfortable rooms
Monorail or walking access to SeaWorld
Guest-only exclusive experiences
Waterpark & play areas
Kids Club
Variety of dining options, from casual burgers to gourmet restaurants
Many room packages include entry to SeaWorld, MovieWorld, WetNWild and Paradise Country.
---
2. PALAZZO VERSACE
⭐️ RATING: 5/5 Stars | 📍 LOCATION: Seaworld Dr, Main Beach | ✅ Book it!
If you want to splash out a little more on your Gold Coast theme park adventure, Palazzo Versace is located just around the corner from Seaworld and is within walking distance of the park.
They have 1, 2 and 3 bedroom rooms to cater for couples and families, all decorated in fine furnishings, with private balconies and spa baths. The resort has its own private marina, bars and restaurants.
Palazzo Versace offers the ultimate home away from home, with water views and a great location, with only a short 10-minute walk to Seaworld and the Marina Mirage restaurant area.
This is truly the luxury place to stay when visiting the Gold Coast.
Although some changes are expected in the coming years as it will no longer be part of the Versace hotel chain.
PROS:
Family rooms available
Swimming pool
Spa bath in every room
Free wifi
Variety of dining options
---
Other Things To Do Near Seaworld
Dine at one of the many restaurants at Marina Mirage
Take a seaplane to Stradbroke Island
Go on a fishing charter
Enjoy the best fish and chips around at Peter's Fish Market
Whale watching
Watersports
RECOMMENDED ACCOMMODATION NEAR MOVIE WORLD & WET 'N' WILD
Movieworld and WetNWild are located in Oxenford, along the Pacific Motorway. Between them sits a whole load of other fun and attractions too.
Paradise Country, where you will get to meet native Australian and farm animals.
Top Golf is the newest major Gold Coast attraction, with unique golf-themed games and a driving range and is suitable for the whole family.
And Australian Outback Spectacular, a nightly performance incorporating Australian history, animals, a lights show, music and great food.
Pretty much any accommodation in Oxenford is going to set you up for an exciting Gold Coast family holiday!
While a car to get around will make your stay easier, there are buses, Uber, and taxis available, as well as many of the hotels in the area providing shuttle services between the theme parks.
Here are our top recommendations for Wet N Wild and Movieworld accommodation:
---
3. BIG4 GOLD COAST HOLIDAY PARK & MOTEL
⭐️ RATING: 4/5 Stars | 📍 LOCATION: 86 Siganto Dr, Gold Coast | ✅ Book it!
Perfect for families

Swimming pools and a huge water park

Kids activity schedule

Free wifi

Loads of indoor and outdoor activities

Restaurant
🤩 Check Prices and Availability!
---
4. PARADISE COUNTRY FARM STAY
⭐️ RATING: 3/5 Stars | 📍 LOCATION: Production Dr, Gold Coast | ✅ Book it!
The eco tents are the perfect option if you love the idea of camping but still want a little extra home comfort mixed in with your theme park accommodation!
Unique camping accommodation

Animal encounters

Optional buffet breakfast

Close proximity to theme parks
---
Other Things to do Near Movieworld and Wet N Wild
Enjoy a meal and show at Australian Outback Spectacular
Meet some furry friends at Paradise Country
Master your swing at Top Golf
Go Karting at Game Over Helensvale
Read next: 100 Things to do on the Gold Coast with kids
RECOMMENDED ACCOMMODATION NEAR DREAMWORLD & WHITEWATER WORLD
Dreamworld is located in Coomera, Gold Coast, which is just over 45 minutes by car from Brisbane.
Unfortunately, there are actually not a lot of hotels near Dreamworld Gold Coast, which makes it a little trickier if you do not have your own transport.
However many Gold Coast hotels do provide shuttle bus services, either free of charge or at a reasonable cost to get you to and from Dreamworld and White Water World.
Dreamworld is located only a few minutes drive down the Pacific Motorway from Movieworld and WetNWild, so staying in either area is convenient if you wish to visit all the different parks in a single Gold Coast holiday.
There are also plenty of shops, restaurants, and other attractions in the area.
Here are some of our top picks for Dreamworld accommodation:
5. COOMERA MOTOR INN
⭐️ RATING: 3/5 Stars | 📍 LOCATION: 11 White Water Way, Coomera | ✅ Book it!
Located across the highway from Dreamworld and WhiteWater World (just 300m), and only a short 7-minute drive to Movieworld and WetNWild.
Coomera Motor Inn is a budget Dreamworld accommodation that is family-friendly and in close proximity to shops, restaurants and the rest of the Gold Coast attractions.
The hotel offers rooms suited to solo travellers, double, triple quad and family rooms for up to 5 people, making it perfect for family accommodation Gold Coast.
Coomera Motor Inn is a basic budget family hotel for Gold Coast theme parks, with soundproof rooms and shuttle services available.
This option is fine if you just want a simple Gold Coast theme park hotel that is conveniently located from Dreamworld. It's the no bells and whistles option.
PROS:
Swimming pool

Theme park shuttle service

BBQ & picnic areas

Restaurant
---
6. INTERCONTINENTAL SANCTUARY COVE RESORT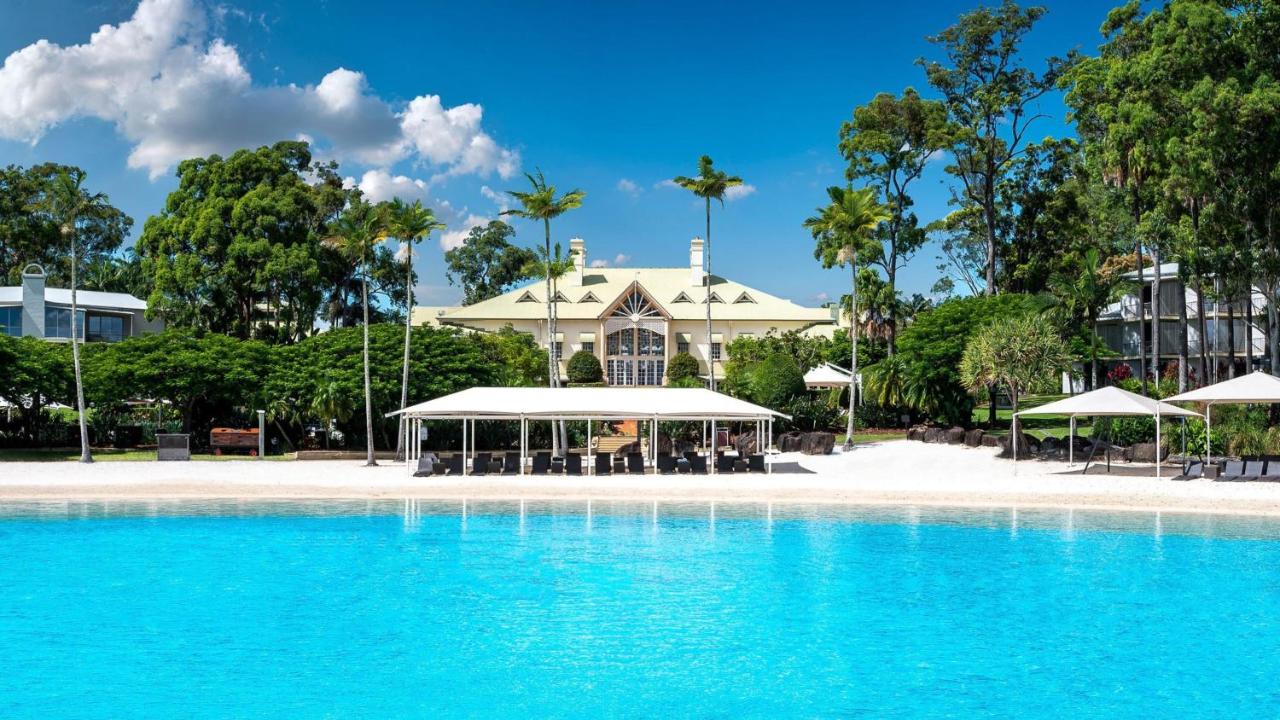 ⭐️ RATING: 5/5 Stars | 📍 LOCATION: Manor Circle, Hope Island | ✅ Book it!
If you are looking for modern, mid-range theme park accommodation Gold Coast, Intercontinental Sanctuary Cove Resort is a good choice.
While the hotel itself does not target families specifically, the Hope Island location is great for views and distance from other attractions and has great ratings for family travellers as well. It boasts two swimming pools, a sauna and a restaurant.
While it's not quite so close to Dreamworld, it is a nicer alternative. It is located approximately 9.8km or 15 minutes from Dreamworld and WhiteWater World, and close to Sanctuary Cove.
PROS:
Suitable for couples or smaller families

2 swimming pools

Free wifi

Variety of restaurants and bar

s
Although popular for families, this would be the perfect romantic theme park getaway option if you are looking for an adrenaline-pumping couples escape.
Other Things to Do Near Dreamworld and WhiteWater World
Go trampolining at Spring Loaded
Dine at Sanctuary Cove
Do some shopping at Westfield Coomera
No doubt you will now have the best options for accommodation near theme parks Gold Coast so you can make the most of your thrill seeker holiday. The Gold Coast theme parks are fun for the whole family! And best of all, you can get Gold Coast theme park super pass tickets before you visit, to save you big!
Buy Gold Coast Theme Park Tickets Online
Get your discount theme park tickets Gold Coast online:
FAQs About Gold Coast Accommodation Near Theme Parks
What are the best areas to stay in for a Gold Coast theme park vacation?
The best areas to stay for a Gold Coast theme park vacation are generally Main Beach and Helensvale areas, or Surfers Paradise and Broadbeach if you want to be more central to other attractions.
Are there any packages available for theme park accommodation?
Yes, Sea World Resort often has theme park and accommodation packages that include entry into just SeaWorld or to all Village Roadshow theme parks, including Movieworld, WetNWild and Paradise Country.
How far are the major theme parks from each other?
The major theme parks on the Gold Coast are generally located within a short drive of each other. The distance between them can vary, but typically it takes around 10 to 20 minutes to travel between the parks by car.
Is there public transportation to get around while staying on the Gold Coast?
Yes, the Gold Coast has a reliable public transportation system that includes buses and rideshare services. You can use public transportation to get around the Gold Coast, including travelling to and from the theme parks.
Are there any shuttle services available to the theme parks?
Yes, there are shuttle services available that provide transportation specifically to the theme parks. These services are often operated by tour companies. They offer convenient pick-up and drop-off locations, allowing you to easily reach the theme parks without worrying about driving or parking.
Are there any discounts or special offers available for theme park tickets?
🤩 Our top pick is Sea World Resort for theme park accommodation on the Gold Coast because it's such a fun place to stay and their theme park packages are great!
Final Thoughts: Gold Coast Accommodation Near Theme Parks
When it comes to Gold Coast accommodation near theme parks, it can be difficult to know what to expect or where to start. But with a bit of research and planning, families can find the perfect spot that fits their budget and needs.

Your family will be sure to have an unforgettable experience while exploring the best that Gold Coast has to offer. Make sure you check out "The Ultimate Gold Coast Bucket List" for 100 of the must-see attractions in the area!
Need more Queensland travel inspiration?
PLANNING YOUR GOLD COAST THEME PARK HOLIDAY SOON? SAVE THIS FOR LATER