This post may contain affiliate links. Read the full disclosure
Are you looking for the best travel gift ideas for people who love to travel? Look no further!
Discover unique travel gifts for everyone on your gift shopping list! If you've got a large list of people to buy for this Christmas, it can be an overwhelming task knowing where to start.
We wanted to help make your job a little easier with some of our favourite unique travel gifts for Christmas 2023 and for birthdays or any special occasion to celebrate your travel-loving friends.
Some of them are essential travel gadgets and tools, others are just for fun. We've added something for everyone on your list!
If you have any RV and camping fanatic friends, make sure you check out our mammoth RV gift guide and kids camping gift ideas too!
The Best Travel Gifts For Everyone On Your List
Whether they are just setting off for their first big adventure, or a seasoned traveller, there is no doubt someone on your gift list who would love one of these cool travel gifts for Christmas!
Just as celebrating an anniversary, a birthday or any other special occasion, travel gifts are both practical and exciting to receive.
We have put together gifts for all type of travellers and budgets. Travel gifts for men and travel gifts for women. We've even got the kids covered with some fun kid's travel gift ideas.
Check out the top travel sling bags for men and women.
Practical Travel Gifts For Every Traveller
There are certain accessories that make your travel life much easier and any frequent traveller is going to appreciate these gifts! Especially if they are yet to discover the awesomeness of these essential travel gear items!
Whether you are planning an epic white Christmas with the family, jet setting somewhere new or spending it at home, these travel gifts are sure to be a hit!
TIP: Get a different colour for each family member so you have no trouble knowing which belongs to who. These Shacke Pak cubes are a hot favourite and come in lots of colours!
Tesalate also have lightweight workout towels which are perfect for taking on camping trips, on an RV trip or backpacking, since they are so compact!
Check out the current range of Tesalate sand-free towel designs.
Stainless Steel Travel Straw Set
This reusable collapsible straw set includes 4 stainless steel straws, 4 metal cases, 4 keychains and 4 silicon pieces, for a portable environmentally-friendly alternative to disposable straws. A perfect sustainable travel gift idea.
---
20-Inch Samsonite Omni Expandable Luggage with Spinner Wheels
This sturdy Samsonite Spinner suitcase maximises packing space and meets most carry-on size restrictions for travelling domestically or for short stays.
Personalised Travel Gifts
Personalised gifts are always an extra special touch. It also helps keep track of belongings when on the road. Personalised gifts are both practical and sentimental.
Wooden Travel Photo Album
These beautifully handmade wooden photo albums can be etched with names or occasions, making them a wonderful personalised gift for storing photos and mementos.
Made from wood with genuine leather binding. You have the ability to add extra pages later on too if you want to expand the size of the photo album.
---
Personalised Cord Organisers
A mess of tangled cords is no fun and hard to avoid when you travel. Save your loved one a little sanity with these cute leather cord organisers. Perfect for earphones, charging cords and other electronic organisation.
Best of all, they are personalised with the recipient's initials so there's no more mixing up who's earphones are who's on the road!
---
Personalised Leather Tag & Holder
Add some extra style to someone's travel with these personalised leather travel accessories. Bag tag and passport holder as a matching set makes a perfect Christmas gift for frequent travellers!
The passport holder will ensure their passport stays protected while away and the leather luggage tag will help them find their luggage in the sea of suitcases on the baggage carousel.
---
Unique Travel Gifts For Home
Any travel passionate knows how strong that wanderlust can be when you're at home instead of enjoying your latest adventure, so it makes sense to surround yourself with travel themed home decor and mementos. Same goes for your travel-loving buddies!
These fun travel home decor ideas are my favourite gift ideas:
Wooden Wall Map
Finding a unique travel gift can be challenging, but this one will be a hit with almost anyone – even the infrequent travellers. This wooden wall map is a beautiful home decor item.
Add pins for the places you visit, or simply enjoy it in its raw wooden format as a wall masterpiece.
---
Scratch Map
A scratch map is a must-have for anyone who loves to travel internationally. In fact, I have a few of these stashed away for last-minute gift ideas.
We got ours back a few years and it hangs proudly in our hallway. The first thing we do when we arrive home from a trip somewhere new is scratch off the next destination. It's also a great conversation starter when we have guests.
---
Wooden Photo Map
Imagine having a creative way to display your photos, all while marking off the different states you visit in the USA. That's what this unique gift idea will do!
Add one of your favourite images to the wooden photo map as you work your way around it. They also have options for other destinations too, such as Canada and Europe.
---
World Map Wall Decals
Another fun wall art idea for travel gifts are map themed wall decals. These can be stuck on the wall and removed without damaging the wall.
They make for a fun and easy option for decorating, especially if you are renting and don't want to damage the walls with prints.
---
Wall Map Coordinates Wall Art
Have the coordinates in the world added to a cute map wall art to display a sentimental place you have experienced together. Perhaps the coordinates of your first trip together or the place you met.
You can also get a music subscription gift with iTunes or Amazon music too.
Check out our top 100 road trip songs and grab the Spotify playlist for your device too. It's free!
---
UE Wonderboom Waterproof Bluetooth Speaker
If you've got a streaming music service hooked up, you need the travel speaker to go with it! UE makes the best portable bluetooth speakers and the bonus is they are completely waterproof so they are great for travel.
This size is perfect for throwing into your suitcase for music on the go. We have the big Megaboom version at home and they are fantastic!
---
Travel Photography Gifts
Travel and photography are a perfect pair and there is always a new photography upgrade or tool on the market to make those travel memories even more beautiful and well captured.
Photography equipment can be expensive, so we are sharing some gadgets at the entry-level and the more expert level for your gift idea inspiration.
But there is not much that compares to a great quality DSLR and our preference is Nikon. We have a NIKON D3500 model which takes great photos!
It is a perfect beginner or budget DSLR option. My favourite feature is the Bluetooth connectivity so you can send photos to your phone instantly for sharing.
Check out current range of Nikon Cameras and deals.
---
Canon Point and Shoot Camera
For on the go, a point and shoot camera is a compact alternative and Canon do great point-and-shoot cameras. We have had a couple of different Canon cameras over the years and were never disappointed with the quality and capability.
While point and shoot cameras don't have the range of a DSLR camera, they are great for travel.
---
GoPro Hero 9
The latest GoPro action camera release offers the ultimate in travel video capability. Best of all, they are waterproof so you can capture your travel memories, wherever you go!
Here are some of the best features:
Waterproof up to 33 feet
5K Ultra HD Video
20MP Photo with SuperPhoto
Hypersmooth 3.0 stabilisation
Live stream to YouTube or Facebook directly from your Gopro!
Check out the latest GoPro 9 deals here. We have this model and it does some pretty amazing stuff!
---
DJI Tello Drone
Drones are the new big thing in travel photography and the prices vary greatly. DJI makes great drones at both entry-level and pro levels.
---
DJI Mavic Mini Drone
For the more professional level drone, if you have a bigger budget to spend, or maybe if you're gifting yourself (why not spoil yourself!), then the DJI Mavic Mini is a great choice. Plus you can get it in red! Bonus.
---
Roxant Pro Video Camera Stabilizer
Steady videos mean you need a little extra help rather than trying to keep your hand steady and this video camera stabilizer is a fantastic option for doing just that. It works for cameras, phones and GoPro/action cams so it is a great all-rounder stabilizing tool for your travel photography loving person.
---
Travel Gifts For Men
If you are looking for cool and unique travel gifts for men, there are so many gift ideas he will love. These travel gifts for him are sure to inspire some fresh wanderlust:
---
Osprey Farpoint 55 Men's Travel Backpack
Every traveller needs a sturdy backpack for essential day trip items or hikes. The Osprey Farpoint 55 Men's Travel Backpack has a lockable U-zip duffel-style access to the main compartment.
Plus it has a very cool detachable daypack with designated laptop and tablet sleeve and scratch-free stash pocket.
---
Columbia Men's Long Sleeve Moisture Wicking Shirt
Stay sun protected and comfortable with this everyday wear Columbia long sleeve shirt.
---
The Nomadik Adventure Subscription Box
Quality outdoor adventure gear delivered each month in a subscription box. Nomadik is the ultimate travel subscription box! Top brands, practical travel gear and tools and tips on making your outdoor adventures even better.
---
Luxury 8 In 1 Manicure Set
For men who travel for business or who simply like to keep up with their personal care while they travel, this luxury manicure set is a great gift idea.
---
ATECH Multifunction 7 in 1 Tech Tool Pen
The ATECH Multifunction tool pen includes a ballpoint pen, stylus, bottle opener, mini flat-head screwdriver, Phillips screwdriver, metric and inch ruler plus a phone stand.
---
Travel Gifts For Women
These travel gifts for her are sure to delight the travel-loving women in your life with practical and stylish travel accessories to take on her next journey:
---
Sanuk Yoga Sling Sandals
These Sanuk Yoga Sling sandals are made from yoga mats, making them super soft and supportive. They are the perfect travel sandals and comfortable enough to wear all day for city or beach exploring.
I wear these sandals all the time. Not just when I travel. They are literally the best shoes EVER!
---
BAGSMART Toiletry Bag Travel Bag with Hanging Hook
This BAGSMART Toiletry bag is perfect for longer trips, with a hanging hook and completely waterproof. There are multiple compartments to suit different toiletries and essentials.
---
Travel Infinity Scarf With Zipper Pocket
The Zero Grid travel scarf has button snaps at either end, to customise the look and fit. The 2 pockets are perfect for keeping important items, such as a passport or money, hidden away. Wear it as a scarf, wrap, shawl, hoodie, or travel blanket!
---
Jadyn B Large Duffel Bag with Shoe Pocket
Take this cute 22″ Jadyn B overnight bag with you anywhere. Made from durable fabric to help prevent tears, making it the perfect carry-on, complete with space for shoes!
---
Travel Jewellery Organiser
This personalised travel jewellery organiser will keep her precious jewellery safe and untangled while travelling.
---
BaBylissPRO Nano Titanium Mini Straightening Iron
This BaBylissPRO Mini Straightening Iron fits easily into suitcases or overnight bags so you don't have to worry about not having your favourite hair styling accessories while travelling.
I have had this mini straightener for years and use it at home as well since my expensive straightener stopped working. It takes a little longer because it is smaller, but definitely does the job!
---
Yonala Summer Women's Beach Coverup
Give her a stylish kimono for beach and pool days with one of these beautiful print Yonala beach cover-ups.
---
Unique Travel Gifts For Kids
Raising young explorers is a magical way to help them learn about the world in a way that the classroom cannot teach. And of course, there are a few kid-friendly travel accessories that certainly make both of your time on the road easier.
Make sure you check out these awesome kid's travel subscription boxes, as the perfect way to inspire their wanderlust!
Travel Colouring Book
What better way to get the kids excited for travel than a travel themed colouring book. This is a great gift for home before they travel and also one that can be perfect for entertaining them along the way.
---
Little Global Citizens Subscription Box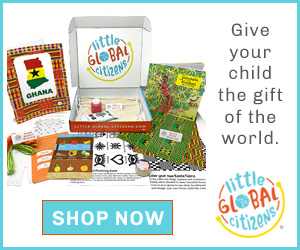 Little Global Citizens is a monthly subscription box that introduces children to countries of the world and their cultures, filled with fun activities, recipes and guides aimed at children 4 to 10 years old.
Little Passports Subscription Box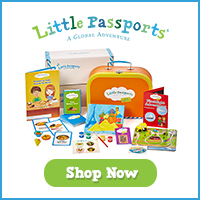 The Little Passports subscription consists of travel-themed monthly activity packs loaded with fun and educational activities to teach kids about different destinations. The first month comes with the orange suitcase and welcome pack, and each month after that comes with a different set of activities.
There are subscriptions to suit different age groups and regions. You can subscribe annually, 6 monthly or month to month.
We often make our own DIY activity kits for our kids before we travel, but if you are short on time or want something different, these subscription kits are perfect!
---
Kids Sleeping Mask
Help little travellers get a better night sleep when away from home with a cute patterned sleeping mask. These handmade sleeping masks for kids come in loads of different patterns.
How about a Star Wars-inspired sleeping mask or perhaps fancy unicorns. There is something for everyone.
---
Lonely Planet kids travel activity books
Lonely Planet has some incredible kid-friendly activity books and fun educational resources in their Lonely Planet kids range. We have a few of them, including Adventures in Smelly Places pictured, and our kids love learning interesting new facts or doing the activities.
---
Toddler Car Seat Lap Travel Tray
The perfect accessory for a road trip, this lap tray is a great way for kids to do activities on long drives without dropping everything. This makes your life and theirs easier, for sure!
Having a lap tray like this is a great way to keep kids entertained during road trips over the Christmas break.
---
3D Puzzle Globe
Fun learning puzzle globe to help develop early fine motor skills, learning spacial awareness, and geography
---
Travel-Themed Jigsaw Puzzle
Gift a gift that will give hours of fun with a beautiful travel scene puzzle, such as this stunning cityscape from Cloudberries.
Fun Gifts For Travel Lovers
If you want something a little less practical and a little more fun. Or if you are looking for a unique travel gift for home, to help your gift recipient dream of adventure, even when they are doing their every day routine, these fun travel lover gifts are sure to inspire:
The Adventure Challenge
Create your newest adventures through mystery adventures and challenges all from your home. Simply scratch off the mystery activity, have fun and journal your experience as a cool reminder for the future. You can choose from 4 different types – couples, family, solo or friends themed Adventure Challenge books.
Use Promo Code SIMPLIFYCREATEINSPIRE To Save 10%
---
LEGO Globe
This LEGO Globe is sure to keep any LEGO fan busy for a long while as they build their very own spinning world globe model.
---
Travel Christmas Ornaments
These Christmas travel ornaments are a beautiful keepsake for the Christmas tree each year. Start a tradition and gift a new one each year!
---
Gift Republic Cork Colouring Globe with Pins
A sturdy cork globe with pens for colouring the globe and pins so you can personalise it.
---
Estefanlo Floating Magnetic Globe with LED Lights
This stylish floating magnetic globe is a cool desk decor item for travel lovers and would look good in either at home or on an office desk.
---
Trekking The National Parks Board Game
Award-winning board game Trekking The National Parks encourages players to share amazing memories of National Park visits during gameplay.
For more travel board games to try, check out our huge list of the best travel-themed games!
---
The World Game – Geography Card Game
Find the strongest fact about the country and win. Train your memory and brain while having fun playing The World Game, suitable for adults and kids.
---
Lonely Planet's Ultimate Travel List 2: The Best Places on the Planet Ranked
Inspire wanderlust with the 2nd edition of Lonely Planet's bestseller ranking the greatest places to visit on Earth. A must-have coffee table book for explorers and armchair travellers.
---
Universal Yums Snack Subscription Box
Gift the flavours of the world with a fun Universal Yums snack subscription box. Monthly snacks to their door.
---
Travel Keepsakes & Memory Keeping Gifts
Give the gift of memory keeping with keepsake gifts to help them record travel memories and moments.
---
Leather Travel Notebook
Unlike most travel journals, this notebook comes with blank pages making it easy to jot down memories, sketches and make space for sticking in tickets or photos from their adventures.
---
Travel Planner Journal for Women
This beautiful travel planner journal for women will help them plan and organise their entire trip and record memories along the way.
---
Ticket Shadow Box
A ticket display box is a super cute unique travel gift idea for Christmas. They can use it to store all the different ticket stubs from the attractions they visit around the world.
This one makes a really cute couple travel gift for your significant other or for another couple you want to give a joint gift to.
---
Travel Listography: Exploring The World In Lists
Travel Listography has over 70 thought-provoking topics, from the essentials (countries to visit, world cuisines to try) to the idiosyncratic (memorable people I've met, animals seen in the wild) in a sweetly illustrated journal to serve as a unique time capsule for years to come.
---
Hopefully, these give you some great ideas for unique travel gifts for Christmas, with something for every travel addict in your life! We've got a few of these on our own wish list this year too!
If you are looking for gift ideas for the rest of your list, you will find gift guides for every age and occasion over at my other website.
You can also find some great nature-inspired gifts for kids, in case you have a little nature lover in your life. There are so many fun options for the little travellers!
What's the best travel-related gift you've ever received?
You may also like these:
PIN IT!