If you've got a large list of people to buy for this Christmas, it can be an overwhelming task knowing where to start, so we wanted to help make your job a little easier with some of our favourite unique travel gifts for Christmas 2019. Some of them are essential travel gadgets and tools, others are just for fun, and hopefully something for everyone on your list!
UNIQUE TRAVEL GIFTS FOR CHRISTMAS
Travel Accessories Every Traveller Needs
There are certain accessories that make your travel life much easier and any frequent traveller is going to appreciate these gifts so much! Especially if they are yet to discover the awesomeness of these great items! Whether you are planning an epic white Christmas with the family, jet setting somewhere new or spending it at home, these travel gifts are sure to be a hit!
Packing Cubes – I've said it before and I will say it plenty more times. Packing cubes have transformed the way we pack for our trips. Especially when travelling with kids. Everyone needs a set of good quality packing cubes for an organised suitcase. EVERYONE!
Check out the latest packing cube deals here.
Everlasting Comfort Memory Foam Travel Pillow – Just like sleeping on clouds wherever you are! Want your travel buddies to travel in comfort, then they need one of these babies! They will love you for it!
Check out the latest prices here.
Stow N Go Portable Suitcase Organiser – Okay… so we haven't tried one of these but it looks so cool and it would be the perfect gift for someone about to go on a longer stay somewhere. Or who just likes to have their luggage organised neatly the whole time. This is like next level packing cubes!
Check out the tutorial video and find prices here.
Tesalate Sand Free Beach Towel – The worst thing about visiting the beach is the bucketload of sand you accidently take home with you, so every traveller or beach lover needs one of these funky and functional towels from Tesalate. They come in stunning and fun designs, are light and compact, and sand just drops right off. They even have a hook loop for easy hang to dry options while on the go.
Check out the current range of Tesalate sand-free towel designs here.
Unique Travel Gifts For Home
Any travel passionate knows how strong that wanderlust can be when you're at home instead of enjoying your latest adventure, so it makes sense to surround yourself with travel themed home decor and mementos. Same goes for your travel-loving buddies!
Check out these fun travel home decor ideas:
Scratch Map – A scratch map is a must-have for anyone who loves to travel internationally. In fact, I have a few of these stashed away for last-minute gift ideas. We got ours back a while and it hangs proudly in our hallway. The first thing we do when we are home from a trip somewhere new is scratch off the next destination. It is also a great conversation starter when we have guests.
There are so many cool scratch maps. Check out the latest deals and options here. As an Aussie, I've put my wishlist in for a USA states version for Christmas this year too!
World Map Wall Decals – Another fun wall art idea for travel gifts are map themed wall decals. These can be stuck on the wall and removed without damaging the wall and they make for a fun and easy option for decorating, especially if you are renting and don't want to damage the walls with prints. We have a few different wall decals up in our house and they look really funky.
Check out the latest wall decal options here.
Ticket Shadow Box – This is a super cute unique travel gift idea for Christmas that also happens to be really budget-friendly too. They can use it to store all the different ticket stubs from attractions they visit around the world.
Check the availability and price here.
Printable Wall Art – If you are looking for a really budget friendly travel gift that you can personalise yourself, printable wall art is perfect! You can purchase printable quotes or images and print them yourself at home or at your local photo lab, then just add to a cute frame. Simple, easy and it looks great on display! Find printable quotes here.
Tech Travel Gifts
If the traveller in your life is also a tech junkie, there are sure to be some fun gadgets on their wishlist this Christmas, so here's a round up of some of the best tech travel gift ideas:
Kindle eBook Reader – When you travel often, you want to keep things compact so a Kindle ebook reader is a great alternative to lugging heavy books around with you. There are a gazillion books on Kindle and you can subscribe to Kindle Unlimited for a small monthly fee for access to endless choices too. I do this and love that I never run out of something new to read. There are even some audiobooks included.
Find out the latest deals on Kindle e-readers here.
TV Streaming Services – Being able to watch your favourite shows on the go is always great for downtime when travelling. Especially if you've got kids too! Netflix is a popular option, or Amazon Prime is an alternative that includes free Amazon Music and other awesome membership perks too.
Audible or Kindle Subscription – I mentioned how awesome Kindle Unlimited is for ebooks and audiobooks. You can also subscribe to Audible for audiobooks, which is my favourite way to pass time when transiting. Both of these can be purchased as a gift subscription for your tech book loving friends!
Find out more about Audible and Kindle to see what options are available.
iTunes or Google Play Gift Card – Depending on the type of phone or devices your gift recipient has, they may be able to put an app store gift card to great use, whether they be gamers or music fans, or simply want some fancy new travel apps. Grab gift cards here.
Spotify Subscription – Music on the go is always great and these days being able to instantly download the latest album releases or find a fun playlist for your next road trip is the best way to listen to music. Spotify is our favourite music streaming service. We have a family account which means we share one account across both our devices. Spotify premium makes a great gift as well! You can also get a music subscription gift with iTunes or Amazon music too.
Check out our top 100 road trip songs and grab the Spotify playlist for your device too. It's free!
UE Wonderboom Waterproof Bluetooth Speaker – If you've got a streaming music service hooked up, you need the travel speaker to go with it! UE make the best portable bluetooth speakers and the bonus is they are completely waterproof so they are great for travel. This size is perfect for throwing into your suitcase for music on the go. We have the big Megaboom version at home and they are fantastic!
Check out the latest deals and prices here.
Travel Photography Gifts
Travel and photography are a perfect pair and there is always a new photography upgrade or tool on the market to make those travel memories even more beautiful and well captured. Photography equipment can be expensive, so we are sharing some gadgets at the entry level and the more expert level for your gift idea inspiration.
Nikon DSLR Camera – Many people who travel often choose not to take their big DSLR with them every trip these days, as let's face it, they can be bulky and heavy, but there is not much that compares to a great quality DSLR and our preference is Nikon. We have an older model D5300 which still takes great photos! Plus these days, they are a pretty affordable option. You can get newer models for much less these days too.
Check out current range of Nikon Cameras and deals here.
Canon Point and Shoot Camera – For on the go, a point and shoot camera is a compact alternative and Canon do great point and shoot. We have had a couple of different Canon cameras over the years and never disappointed with the quality and capability. While they don't have the range of the DSLR, they are great for travel.
Check out the Canon PowerShot ELPH 360 Digital Camera here.
GoPro Hero 7 – The latest GoPro action camera release offers the ultimate in travel video capability. Waterproof up to 10 metres, 4K video, and you can even live stream to YouTube or Facebook direct from your GoPro 7! Awesome!
Check out the latest GoPro 7 deals here or if you are looking for a more budget friendly option, we have this model and it does some pretty amazing stuff!
DJI Tello Drone – Drones are the new big thing in travel photography and the prices vary greatly. DJI make great drones at both entry level and pro level. The Tello Drone is an entry level toy drone, but for someone just starting out in travel videography, or who just wants to capture some cool angles for their next trip, the Tello is a popular choice. We actually have this one ourselves.
Check out the latest prices on the Tello drone here.
DJI Mavic Drone –  For the more professional level drone, if you have a bigger budget to spend, or maybe if you're gifting yourself (why not spoil yourself!), then the DJI Mavic is a great choice. Plus you can get it in red! Bonus.
Check out the latest prices and deals for the Mavic here.
Roxant Pro Video Camera Stabilizer – Steady videos mean you need a little extra help rather than trying to keep your hand steady and this video camera stabilizer is a fantastic option for doing just that. It works for cameras, phones and GoPro/action cams so it is a great all rounder stabilizing tool for your travel photography loving person.
Check out the latest prices for the Roxant Stabilizer here.
Moment Tele 60mm Lens For Phone – We are definitely in a new generation of travel photography where phones are always on hand and many people are creating incredible videos and photos from their mobile phones. In fact, we sometimes only take our phones on short trips these days, to keep our luggage weight down. This is a cool little gadget to take your photography to the next level on your phone.
Check out the latest deals and prices for the Moment Lens here.
Unique Travel Gifts For Kids
Raising young explorers is a magical way to help them learn about the world in a way that the classroom cannot teach. And of course, there's a few kid-friendly travel accessories that certainly make both of your time on the road easier.
Travel Colouring Book – What better way to get the kids excited for travel than a travel themed colouring book. This is a great gift for home before they travel and another one that can be perfect for entertaining them along the way.
Find current travel colouring books and deals here. 
Little Passports Subscription – The Little Passports subscription consists of travel-themed monthly activity packs loaded with fun and educational activities to teach kids about different destinations. The first month comes with the orange suitcase and welcome pack, and each month after that comes with a different set of activities.
There are subscriptions to suit different age groups and regions. These are so fun, I kinda want one myself! You can subscribe annually, 6 monthly or month to month.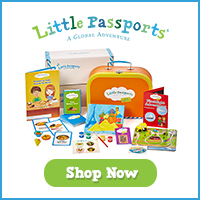 Shop the Little Passports range here.
Lonely Planet kids travel activity books – Lonely Planet have some incredible kid friendly activity books and fun educational resources these days. We have a few of them already, including this smelly places one, and our kids love learning interesting new facts or doing the activities.
Check out the full range here.
Toddler Car Seat Lap Tray – The perfect accessory for a road trip, this lap tray is a great way for kids to do activities on long drives without dropping everything. This makes your life and theirs easier, for sure!
Check the current deals and prices here.
You can also find some great nature inspired gifts for kids, in case you have a little nature lover in your life. There are so many fun options for the little travellers!
Hopefully these give you some great ideas for unique travel gifts for Christmas, with something for every travel addict in your life! We've got a few of these on our own wish list this year too!
What's the best travel related gift you've ever received?
This article may contain affiliate links, which means we may receive a small commission, at no cost to you, if you make a purchase (
disclosure
).